Getting to know you...
So we are postponing the debut of the movie until tomorrow, because Tanner wants to share it on Tanner Tuesday.
I have had some questions about how old I am lately, and how old the Doofus is. I realized we have a lot of new readers out there who may not be so familiar with our story. I would like to take this opportunity to address all the new friends and maybe some with failing memories. :)
I am 9 years old and as you can see in the pic above, I am very handsome. I will be 10 in March. For the longest time my parents were unsure of my exact birthdate so I celebrated March 6th-9th as "Joey-Palooza". Four days of non-stop birthday excitement. Just a few month's ago they found my puppy paperwork (it was buried at my Dad's parent's house in a sea of papers) and saw that I was born on March 6th. However, as Joey-Palooza is a much loved holiday, we will continue to celebrate it.
I was an only dog, loving life and enjoying being the center of attention, until August 29th 2005. That is when we got Tanner.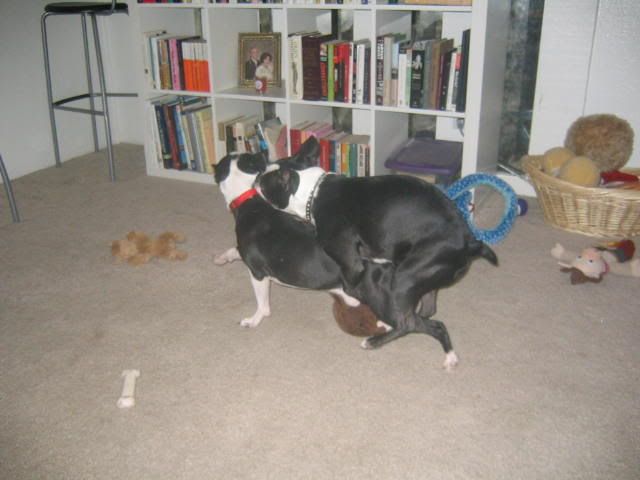 That is one of the first pictures of us together.
Tanner came from a pound in Ohio. My Dad's aunt does a lot of work for them and she called one day and was all, OMDOG there is this cute Boston here do you want him? My parents said YES. Can you freakin believe it? If I could turn back time I would have ate the phone. all the phones. the phone line. the telephone pole. ANYTHING. But he is here now so I just have to deal with him, I guess. He is 4 years old (maybe 3, his intake papers have different dates) but he acts like he is 4 months. His nickname is The Doofus Face.
If you do not know why...watch this video:
Doofus Face
from
Rhonda
on
Vimeo
.
Our nice aunt Patty drove the doofus all the way to AZ (which is where we live) from Ohio. What a nice aunt. I guess. ahem.
We are very easy to tell apart. I am the handsome one and he is the Doofus. He is also fat. BUT if you still have a problem, he has a dot on his head. The Doofus Dot.
Well, I hope this was informative and that all the new and old readers out there feel like they know us a little better!